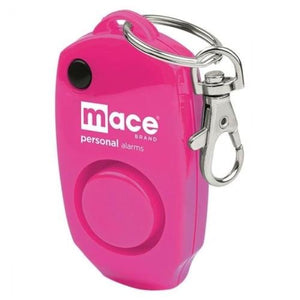 From the worldwide leaders in self defense comes this Mace® Brand dual function personal defense alarm. It features a 130 dB alarm, which is one of the loudest personal alarms on the market. It is also the only alarm manufactured for Mace to include a backup feature — it has a security screamer whistle built into the end of the alarm that serves as an emergency backup alert mechanism in the event of battery failure.
The alarm is activated by depressing the button on the front of the alarm, but a different button on the back of the unit is the only way to deactivate and silence the alarm. In situations where seconds make a difference between life and death — the ease of activation combined with the "hidden" off button make this alarm an easy to use, and hard to defeat personal alarm.
LOUD: 130dB attack alarm with push button activation and concealed OFF button

CLIP: Keyring with purse clip - the ultimate personal protection alarm to carry on your purse or backpack

WHISTLE : Backup emergency manual whistle built-in for emergency use in case of battery failure

BATTERIES: Preloaded with regular alkaline (LR44) watch batteries, user replaceable and 365 day standby time

COLORS: black, red
Personal alarms are one of the fastest growing segments at retail in the self defense industry, because an attacker's worst enemy is attention. Mace® Brand personal alarms are legal to carry in all 50 states (even on airplanes!) and are a very safe method of self defense. They require no training or skill to operate, and can be used by anyone regardless of age or physical ability. Victims are often too traumatized to shout for help in unfamiliar and dangerous situations, increasing their vulnerability. Criminals do not like to draw attention, and will likely run off when they realize the alarm cannot be stopped.
MACE® is a registered trademark of Mace Security International, Inc. All images and advertising copy © 2018. All rights reserved.